Greenworld Tileset

Greenworld was the first new tileset for Outpost 2 and focuses on hills and grassland. The tileset is an adaptation from the game Total Annihilation.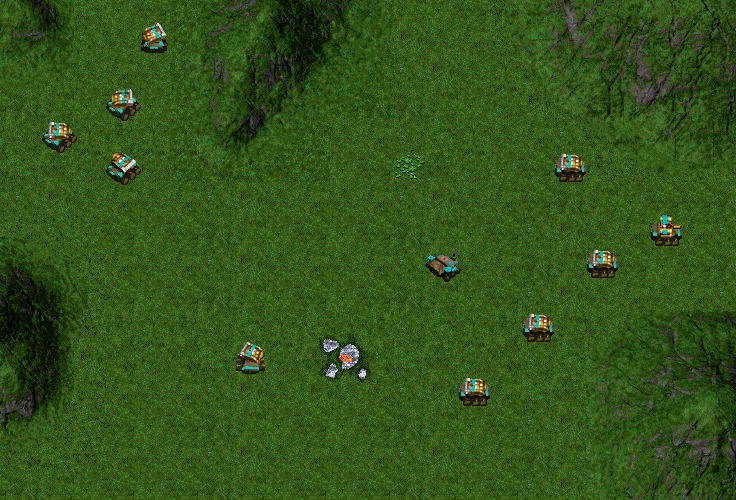 Project Status
Source Code Download
How to Install
Extract to Outpost 2 folder. Overwrite maps04.vol in directory.
Note: maps04.vol was added in 1.3.3 and contains no files so overwriting this file will not result in losing files.
grnwld0.7.rar contains: maps04.vol, ml2grn1.dll, ml4grn1.dll, ml4grn2.dll
Map List
If you would like to create maps for the Greenworld Tileset please go here.
This shows the current map list of Greenworld maps:
Greenhaven, 2 Player, Last One Standing, 'Greenhaven' v0.8

Greenhills 4 Player, Last One Standing, 'Greenhills' v0.8

grnwld03

grnwld04

grnwld05

grnwld06
How to Create a Map Using the Tileset
A Greenworld pallet map file contains all the sections of the Greenworld tileset.
Download grnwld_palette0.7.map

Open mapper 2.0.13. Goto view > Options. Set OP2 VOL directory to the OP2 directory with the Greenworld Tileset installed in.

Goto manual overwite and tick 'Locate tileset' and enter maps04.vol.

Close mapper, reload mapper.

Extract the maps from the maps04.vol with the VOLExtractor.

Make a copy of one of the maps with the size you would like to work on for your new map.

Load your copy, this will become your new map.

Load grnwld_palette0.7.map

Copy and paste sections into your new map.

It is suggested you first cover your map in blank grass. There is a big section of grass in the pallet which will help you to do this. Keep pasting it over your map until it is full.
Note: You cant open non-greenworld maps while the mapper is loading the tileset from maps04.vol.
Greenworld Map Pallette
Credits
Project leader: Leviathan
Tileset Converter: Leviathan Programming: Hooman, op2hacker, TH300
Map design: Leviathan
Misc Work: Leviathan, TH300, Freeza-CII
Original Tileset: Taken from Total Annihilation. Thanks to the people who made it!
Beta-testers:
Leviathan

op2hacker

Freeza-CII

ZigZagJoe

Stormy

TH300

Bouzip
—-
- Go Back to Outpost 2 Add-Ons
- Go Back to Outpost 2 Main page
- Go Back to Wiki Home Page